Cordless Fan with Powerful Airflow | Mosquito Repeller | Camping Lantern | Emergency Power Supply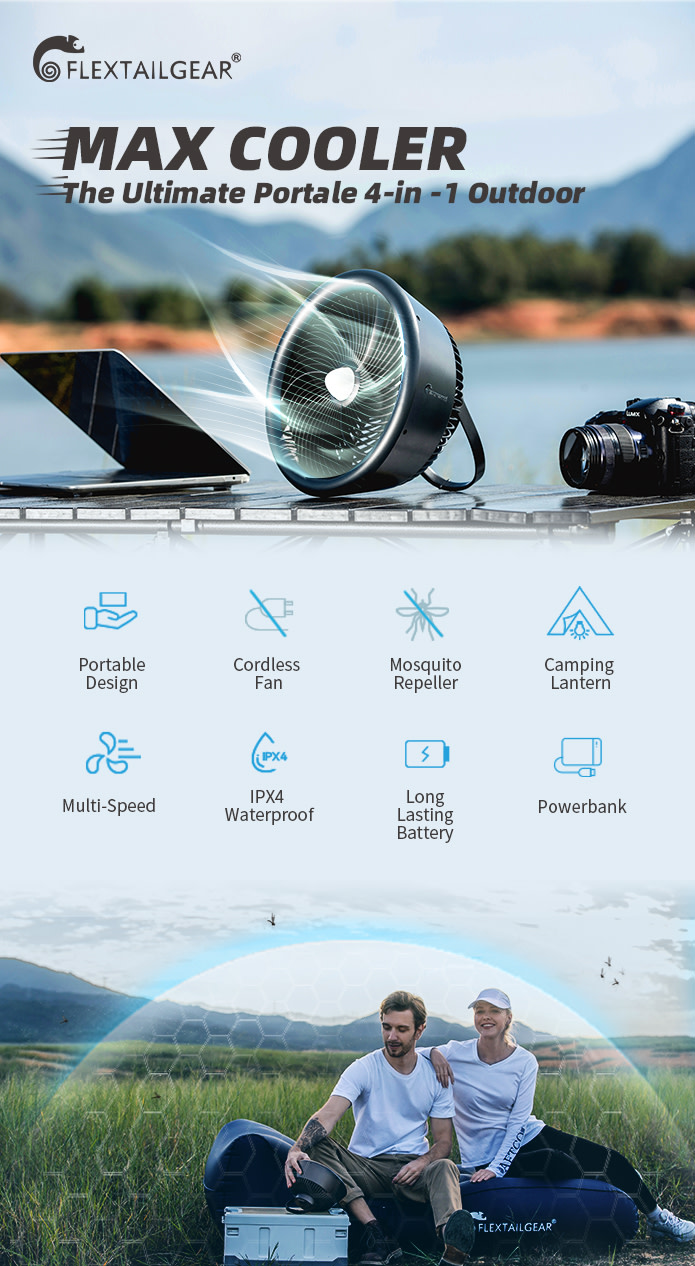 Fed up with sleeping in an airless, hot, and clammy tent? Are you frustrated by the stuffy outdoor environment? We know that struggle! We find the best solution for your summer camping trip!
Introducing MAX COOLER, an outdoor fan with an aircraft engine look, designed to keep your outdoor trip cool – wherever you go. With powerful fan speed, outdoor flashlight & mosquito repeller built-in, emergency power supply, and IPX4 water resistance, MAX COOLER is the perfect portable fan you need for outdoor adventures or travel.
Good things come in small packages. Size of only 24 x 25 x 35cm, MAX COOLER is very convenient to travel with and you can tuck it in any closet, car trunk or small space. We're now in 21st century, but it's odd that the design of fans is still behind the curve and not even keep up with the wireless design of laptops, mobile phones nor vacuum cleaners that can make lives more convenient. With the MAX COOLER, you can say goodbye once and for all to short cables and annoying power sockets. Keep your space cool no matter where you are!
MAX COOLER is equipped with the new motor technology and the AIRVORTECH™ technology of advanced aerodynamic mechanism. With a unique kernel design, its performance is far exceeding the ordinary motors. Soft running, gentle at low speed and glide at variable speeds. It provides powerful airflow (up to 5 m/s) with the lowest noise (less than 30db) that can achieve a quiet fan but also consumes less power during operation to save energy. Generate stronger wind with less power consumption.
4 different wind speed settings. You can switch the speed modes according to your needs. Small size but strong wind force, MAX COOLER can blow away hot air easily, it's your best choice for hot summer!
MAX COOLER has a timer shutdown function for you to schedule it. Switch to timing mode, you can choose the working time of the fan function, and schedule it to turn off at a specific time.
Enjoy a cool and bright night. With 350 lumens on high, it is rated to continuously last up to 9 hours at its high brightness, and 25 hours at the low brightness(50 lumens).
When you are having a picnic or camping out of doors, this rechargeable fan not only brings a cool and comfortable breeze but also drives away the mosquitoes. Built-in mosquito repellent device on the back of MAX COOLER, which can be inserted into the mosquito repellent pad, and you can press the button to create an invisible protection zone for you. Two different heating temperature settings (high mode: 165 °C / low mode: 135 °C) to achieve the different effects according to your different environmental needs.
Press the mosquito repellent button once to enter the low mode and one indicator light goes on. Press the mosquito repellent button twice to enter the high mode and 2 indicator lights go on. Press again to turn it off. The camp mode can work for 18 hours on a full charge and cover a range of 3m in diameter, while the outdoor mode can work for 8 hours on a full charge and cover a range of 6m in diameter. With an anti-mistouch design, it cannot be switched on without inserting the mosquito coils.
MAX COOLER can be used as an emergency backup power bank to charge your cell phone, wireless headphones, and other USB-powered devices. It can charge an iPhone13 about 2.5 times.
Support Any USB Charger Devices:
IPX4 water-resistant can protect against splashing water from all angles, it is more suitable for dealing with the various outdoor environments. MAX COOLER is a reliable companion in every adventure you go on.
Configured with four indicators to remind you to charge timely, no longer have to worry about power outages or you can't use it outdoors!