Tenuis3 Leather TL: The thin and stylish wallet
Posted On
A 1/4-Inch (6mm) super thin leather wallet from Japan that can store everything you need
Tenuis3 Leather TL​, an advanced version of Tenuis3, which raised 24 million Japanese yen in crowdfunding is here. While maintaining the popular "¼-Inch (6mm) thinness", the appearance has evolved with a leather material suitable for a wide range of situations. The innovative "Hidden Pocket 2.0" has been added for higher storage capacity. It is ½-Inch(12mm) thick while it can hold 8 cards, 10 bills, and 18 coins.
Thinness that doesn't change even if you put things in
Industry's thinnest class, 0.03-Inch (0.8mm) surface leather
The inside of Tenuis3 Leather TL is made of 0.019-Inch (0.5mm) goat leather. Goat leather is an unfamiliar material in Japan, but it is a leather material that is lightweight, durable, thin, and stretchable. It is also known for its fine and beautiful wrinkles called "grain patterns".
The industry's first "twin card pocket" that thoroughly eliminates waste
The card slots of Tenuis3 Leather TL are designed as "twin card pockets" for easy access and storage. The card pockets are arranged parallel to each other to distribute the thickness, making it easy to see and insert and remove cards. The size of the two card pockets is almost the same as that of the entire wallet, leaving no wasted space.
A divider to eliminate uneven coin distribution
Even if your wallet is thin, the coin pocket will bulge out as you use it. The coin pocket of Tenuis3 Leather TL is equipped with "a divider". Even if you carry coins in it, they are less likely to be unevenly distributed in one place and the thickness is distributed.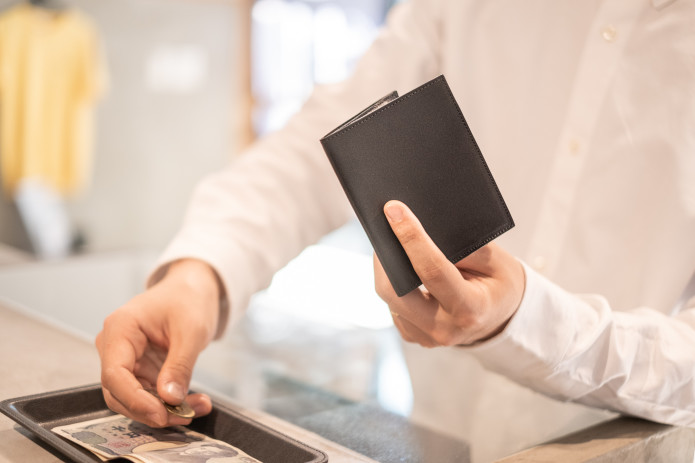 Advanced "Hidden Pocket 2.0" for additional storage of cards and keys
Since the release of our previous model, Tenuis3, we have been extremely grateful for feedback from our users. Among them, was a great demand for carrying more cards and valuables other than money. That's why we greatly enhanced the functionality of the pockets inside the wallet, which were introduced as "hidden pockets" in the previous product.